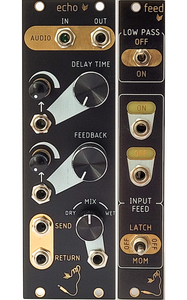 Lo-fi digital delay & expander
Echo is the new lo-fi digital delay module from Tenderfoot Electronics.
Based around the PT2399 chip, with its fixed 44k of memory, slowing the delay times adds some wonderfully crunchy character to your audio.
Echo has been designed to get every little bit out of the PT2399 to give you delay times from 30ms (opening up the ability for using it as a chorus) down to around 2.5seconds, where it gets oh so crunchy and glitchy. 
The feedback control allows you to go from 1 repeat to an infinite slew of gradually degrading lo-fi echo trails.
The feedback loop features send and return jacks to allow patching of other effects or filters into the loop.
Features include:
CV and manual control of delay time
CV and manual control of feedback level
CV and manual control of the wet/dry mix
send and return jacks
low pass filter selection via a jumper on the back
INCLUDED IN THE BOX
Echo ships with its expansion module Feed in the box! No need to make a second purchase to get the extra features that you deserve.
Feed adds:
Manual (via an ON-OFF-MOM switch) and CV control of the input into the delay loop, allowing you to be selective over what ends up going into the feedback trails. Think dub-style delays for eurorack!
A panel-mounted switch to control the low pass filter of the echo module.
Echo 8HP
Max Current Draw:
+12V: 62mA
-12V: 43mA
+5V: 0mA
Depth: 33mm

Feed 4HP
Max Current Draw:
+12V: 20mA
-12V: 3mA
+5V: 0mA
Depth: 23mm