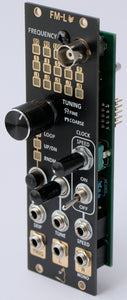 FM-L is the new FM radio tuner module from Tenderfoot Electronics.
Harness the airwaves as you pull voices, sounds and music straight out of the ether and into your modular.
FM-L gives you a variety of ways to navigate through your location's FM radio broadcasts, skipping via frequency increments, or by skipping through the 40 non-volatile radio station save slots.
If you find a station you like, hit the encoder and mode button to save it into the memory to rediscover later!

Included with the module is a 75cm telescopic BNC antenna.
Before Purchasing - Please check that analog FM broadcasts are still available where you are located! This module does not pick up digital audio broadcasting.
Depth:
35mm
Current Draw
+12V: 76mA
+5V: 0mA
-12V: 11mA