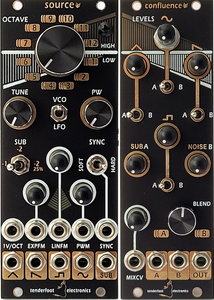 3340 based VCO and VCLFO plus Wave mixer expander
Source is the new 10HP VCO from Tenderfoot Electronics.
Features include:
Knobs and switches:
12-position octave dial for a huge range of frequencies.
Fine tune dial with a range of just over 1 octave to help you easily find the right pitch
VCO / LFO switch.
Frequency Range of 18kHz (VCO mode) down to around 180 seconds per cycle (LFO mode)
Pulsewidth Dial
Sub select switch (-1oct, -2oct, -2oct 25%pulse)
Soft / Hard sync
CV inputs:
1V/oct
Exponential FM (with attenuator)
Linear FM (with attenuator)
Pulse width modulation (with attenuator)
Sync input
Outputs
Triangle
Saw (down ramp)
Pulse / Square
Sine
Sub (square / pulse)
INCLUDED IN THE BOX AT PURCHASE:
When getting hold of your source VCO, you will also get its expansion module Confluence in the same box! No need for an additional purchase.
Confluence adds 2 channels of waveshape mixing to your Source VCO along with a white noise generator. The output crossfader allows you to seamlessly morph between the 2 mixer channels for evolving waveshapes (using this in LFO mode gives you a wild CV source!).
Source: 10HP
Max Current Draw:
+12V: 43mA
-12V: 33mA
+5V: 0mA
Confluence: 8HP
Max Current Draw:
+12V: 39mA
-12V: 27mA
+5V: 0mA
Arriving in August 2021